Speakers

Jim Bidwell


Head of Trade Services Product Management
RBS
Michael Mainelli


Executive Chairman
Z/Yen Group
A qualified accountant, securities professional, computer specialist, and management consultant, educated at Harvard University and Trinity College Dublin, Michael gained his PhD at London School of Economics where he was also a Visiting Professor.  He began his career as a research scientist, later becoming an accountancy-firm partner and a director of Ministry of Defence research.  During a spell in merchant banking in 1994, he co-founded Z/Yen, the City of London's leading commercial think-tank.  He has led Z/Yen from creating smart ledgers (aka blockchains) through the Financial £aboratory, Taskforce 2000, Long Finance & the London Accord, Global Financial Centres Index, Global Green Finance Index, and Global Intellectual Property Index. He is an Alderman of the City of London, a non-executive director of two listed firms and a regulator, Emeritus Professor at Gresham College, Fellow of Goodenough College, and Master of the Worshipful Company of World Traders.  His third book, The Price of Fish: A New Approach to Wicked Economics and Better Decisions, won the 2012 Independent Publisher Book Awards Finance, Investment & Economics Gold Prize.

Michael Hyltoft


Independent Director
EFA SME Trade Finance Fund
Michael Hyltoft has an extensive history in Supply Chain Finance, working for Kingfisher, Heineken and Nestle. He has just completed his studies on blockchain/Distributed Ledger Technology at Oxford, and is excellently qualified to talk about applying blockchain to Supply Chain Finance.
Example Workshop
February 16, 2019
10:00 am |

Blockchain 101: Understanding the Core Principles of the Technology
Michael Harte


European Head of Trade Product
Standard Chartered
Michael is European Head of Trade Product at Standard Chartered. An experienced global banking professional, he specialises in project management, product governance, regulatory and compliance management and AML/Financial Crime Risk controls. He has a Masters in Law in Financial Regulation & Compliance.
Example Workshop
February 16, 2019
11:30 am |

Exploring How Blockchain Offers the Potential to Simplify Global Trade Finance
Day Two
Thursday 13th December 2018
11:30 am |

Exploring How Blockchain Offers the Potential to Simplify Global Trade Finance

Bob Gravestijn


Business Developer
ABN AMRO
Bob is a business developer for ABN AMRO, where he helps the bank develop new services and trade finance products based on DLT to increase capital available in the value chain and strengthen the financial positions of corporate clients. He has previously worked as a business analyst for TradeWiz, and has a PhD in Physics.
Example Workshop
February 16, 2019
9:00 am |

Example item
Day One
Thursday 13th December 2018
9:00 am |

Example item

David Hennah


Co-Chair
World Trade Board
Mariana Gomez de la Villa


Program Director DLT, ING Mirka Skrzypczak, Head of Working Capital & Trade Products
RBS
Mariana Gomez de la Villa has joined ING in 2015 and is currently the Distributed Ledger Technology Program Director at ING, with overall responsibility for driving research, development and implementation of Distributed Ledger Technology as well as capitalizing on its potential in order to unlock mass-scale value. Mariana is also responsible for setting up long-term purpose and vision, including the governance of the program within the organization. Mariana is an active leader in global consortia, outlining the Distributed Ledger Technology strategy and envisioning market landscapes.

Chris van Oosten


Head of Digital Platforms
Port of Rotterdam
Chris has a masters in business administration and has been working on the commercial side of business as well as on the digitisation of supply chains for over 10 years. This combination makes him a very business minded technician. His current focus is on improving the logistics through Rotterdam, meaning global thinking is mandatory. With new technologies like blockchain making it a very exciting playground.
Example Workshop
February 16, 2019
9:00 am |

Example item
Day One
Thursday 13th December 2018
9:00 am |

Example item

Pim Bezemer


Freelance Finance Manager (Vopak, Heerema)

Pim is an experienced Interim Finance Manager (Dutch Chartered Accountant in Business), with broad experience in controlling, Treasury and compliance. He has worked as senior treasury manager for both Heerema and (ad interim) for Vopak.  He was involved in large international (offshore/capex) projects and has experienced many trade finance transactions.
Olga Berlinskaya


Senior Originator and Business Development Manager
AIG
Olga is a senior business development manager for AIG Supply Chain and Trade Finance products responsible for origination and relationship management of bank, broker and Fintech clients. Her previous experience includes working for Bank of America Merrill Lynch and HSBC in London in trade finance origination, distribution and project management roles. Before joining the financial services industry, Olga worked for a global commodity trading company and diplomatic mission in cross-border trade roles.

Aljosja Beije


Logistics and Technology Lead
BlockLab Rotterdam
Aljosja is a MSc in Quantitative Business Economics from Erasmus University and is currently the Logistics and Technology Lead of Blocklab, an R&D outfit for blockchain technology. He's also a PhD candidate at the Politecnico di Milano in Blockchain and SCM.
Example Workshop
February 16, 2019
9:00 am |

Example item
Day One
Thursday 13th December 2018
9:00 am |

Example item
Julio Antoranz


Chief Financial Officer
Domingo Alonso Group
Julio is the CFO of the Domingo Alonso Group, specialising in maximising corporate value by monitoring cash flow, designing appropriate financial corporate structures and analysing strategic investments. He has previously worked as a Senior Auditor for EY, and has an Executive MBA.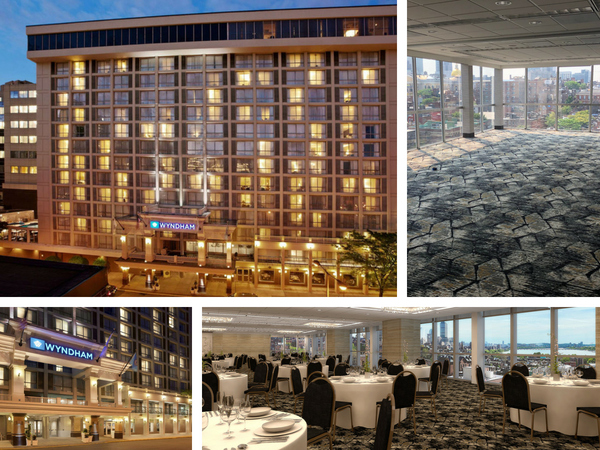 Frank Walker


Senior Enterprise Architect
Koch Industries Invited: DHL & Standard Chartered

Toon Leitjens


CTO
Komgo
Toon Leijtens is the CTO of komgo.  After working for 20+ years in global financial markets as a Risk IT specialist, he joined the ING Blockchain team in 2016 as a blockchain engineer and senior Architect. In two years he has developed commodity trade finance solutions and contributed to the two successful Easy Trading Connect real live trades using blockchain technology; (1.) Crude oil trade between Mercuria and Chemchina, and (2.) the very first soybeans transaction on a blackchain between LDC and Bohi in December 2017). Apart from these significant first-offs, Toon also researched platform interoperability to optimize delivery versus payment cases and experimented with self-sovereign identity solutions. All using distributed ledger technologies.

Patrik Zekkar


Global Head of Trade Finance & Working Capital Management
Nordea
Patrik Zekkar is head of trade finance & working capital management in Nordea. During his career in he has held positions in various banks, as global head of sales & working capital advisory, head of supply chain finance, head of trade & supply chain finance, global head of trade finance, client executive & vice president Singapore Branch, vice president structured trade finance, and vice president export & project finance. Prior to his banking carrier Patrik has various position in Telia Financial Services International and Swedish Export Credit. Patrik is board member in the JV company we.trade, who developing and license the commercial block chain trade platform.

Usman Butt


Regional Product Manager Europe
HSBC
Usman Butt is the Regional Product Head for Supply Chain Finance at HSBC for Europe. His additional responsibilities include a propositions role developing trade finance products for the new digital trade spaces. Usman works closely internally with all the stakeholders and also externally with vendors, consortiums, technology companies, fintechs, legal firms to deliver trade finance innovation. He started his career in 1995 in Pakistan, and has held various roles within commercial and corporate banking in the UAE and the UK as Operations Lead, Relationship Manager, Business Manager, Product and Propositions Manager within the Trade Finance and Commercial Banking space. Recently he has been associated with we.trade as a core team member and functional expert developing new products and rules for this DLT based ecosystem. He remains a member of the Product Innovation Council of we.trade and is also a member of the ICC's re-drafting sub-group for new rules for these new digital eco systems. Usman holds an MBA.

Les Christy


Data Privacy & Digital Counsel
HSBC

Alistair Baxter


Head of Supply Chain Finance
RBS
Alistair is a Trade Finance banker specialising in open account at NatWest, with Non-Executive board expertise. His prior experience includes Capital Management, Structured Finance and Corporate Advisory, specialising in deal execution and advising on capital structures, primarily as part of M&A activity in the Technology, Media and Telecoms sector. He holds a BSc. (Hons) in Statistics from the University of St Andrews.

Kristian Luoma


Head of OP Lab
OP Financial Group
Kristian runs innovation operations at OP - Finland's biggest Financial Group. Kristian has created services for millions of customers, including the award-winning Pivo Mobile Wallet. He is an expert in lean service creation and is public speaker about startup innovation and impact of technology to businesses. Kristian's background lies in startup world and Finnish Nokia, which gives him a different viewpoint and expertise to financial disruption, as well as digitalization.